SV-D3 diffusion pump oil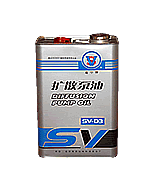 Designation:SV-D3 diffusion pump oil
Standard:4L/cask
Performance:
The oil article has the scope of cent of more narrow riffle board , have to compare good of heat oxidize the stability, the lower saturated steam press, can acquire the extreme limit vacuum of the 10-4-10-8 Kpas.
How choose to use:
1.Each kind of work liquid absolutely can't mix to use, same model with different type also can't mix to use because of the boiling point scope dissimilarity.
2.The diffusion pump of the big size particularly the equipments of smelting that changes the oil to have non - ferrous metal and metallurgy industry frequently, the eligibility uses a fossil oil diffusion pump oil.The vacuum system of evaporate, splash, plate the film and distil etc.
Notice:
1.Must usage under the best heating power.
2.Change the oil possibly clearance pump inside liquid .
3.The oil article should deposit in a dark, dry, in the low temperature environment, take strict precautions against the interfusion of the humidity, dust, miscellaneous articles or objects and other oil articles.
Performance Index:
Item

SV-B1

SV-D3

Kinematic Viscosity
40°C mm2/s
50°C mm2/s
100°C mm2/s


20


60~80

Viscosity index VI
(not less than)

90

90

erosion level 100°C *3h (not more than)
copper

1

1

solidifying point (not more than)

-5

-12

flash point °C (not less than)

180

230

water content

without

without

acid number mg KOH/g ? (not more than)

0.01

0.01

saturated vapor pressure 20°C Pa (not more than)

6.7*10-3

2.7*10-6

ultimate pressure Pa (not more than)

/

6.7*10-5

Mechanical impartities %

without

without

water-solubility

without

without