Company Profile
Beijing Yanshan Special Style Luboil Co.,Ltd is in the yanshan industrial park,The company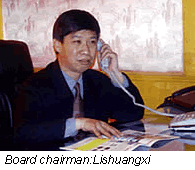 is high-tech company. Old name of The company is Beijing Yanshan Special Style Luboil factry.The reason of market demand changed at present. Total assets RMB is 250 million yuan,The company 's focus on developing middle,top grade special style luboil. Yearly capacity 20 thousand tons.
Since1985,The company always brought to effect along the high-tech,increase technology content yearly,strictly implemented national standard,constantly developed new high-tech products.
For example:Vacuum pump oil, Copper pipe drawing oil, Conticaster crystallizer oil, Waterbase fireresistant pressure medium, and so on.
12 series,most thsn 180 products.There are 4 produts amung all products wins in the national award.The company put in practice the system of quality certification in 2
001,passed by ISO9001.
So fiscal 2003 revenues:RMB 250 million yuan ,Fiscal 2003 earnings: RMB 10 million yuan.
The company holddominance on supplly of materials, mechines,assay equipment, reliable technics, The products was marked by "SPEED VACUUM"; The company gathered scientific research, development, produce, packaging, service, manage.The customer's satisficing to have as a goal, The company can development products by needs of the customers.
Only the customer's success,SO we can development. We hope people from all lines of business to talk cooperate with us.So we develop together.